ARTHUM 4410E: 4th Year Capstone Course

A major focus of the Fall 2019 term of the course involved student research and the development of community oriented projects, with London Artist, Jamelie Hassan. The projects were completed in Winter, 2020, with Prof. Patrick Mahon, and were to have been presented at a conference on April 4, at
Innovation Works
, London. The intended conference title and brief were:
"From Centre to Margin: Perspectives on London's Past and Future"



How can we build new narratives from London's existing history? What stories have we forgotten in London's path to urbanization? This collection of projects and presentations looks at London from within a kaleidoscope of preoccupations and considerations, revealing new possibilities and challenges for the city. Taking up questions including indigenous histories, environmentalism, sexuality, and migration, this collective project aims to introduce the London we don't know.

Instructors: Artist Jamelie Hassan with Ruth Skinner, TA (Fall); Prof. Patrick Mahon with Busra Copuroglu, TA (Winter)
Phase 1: Fall Term Projects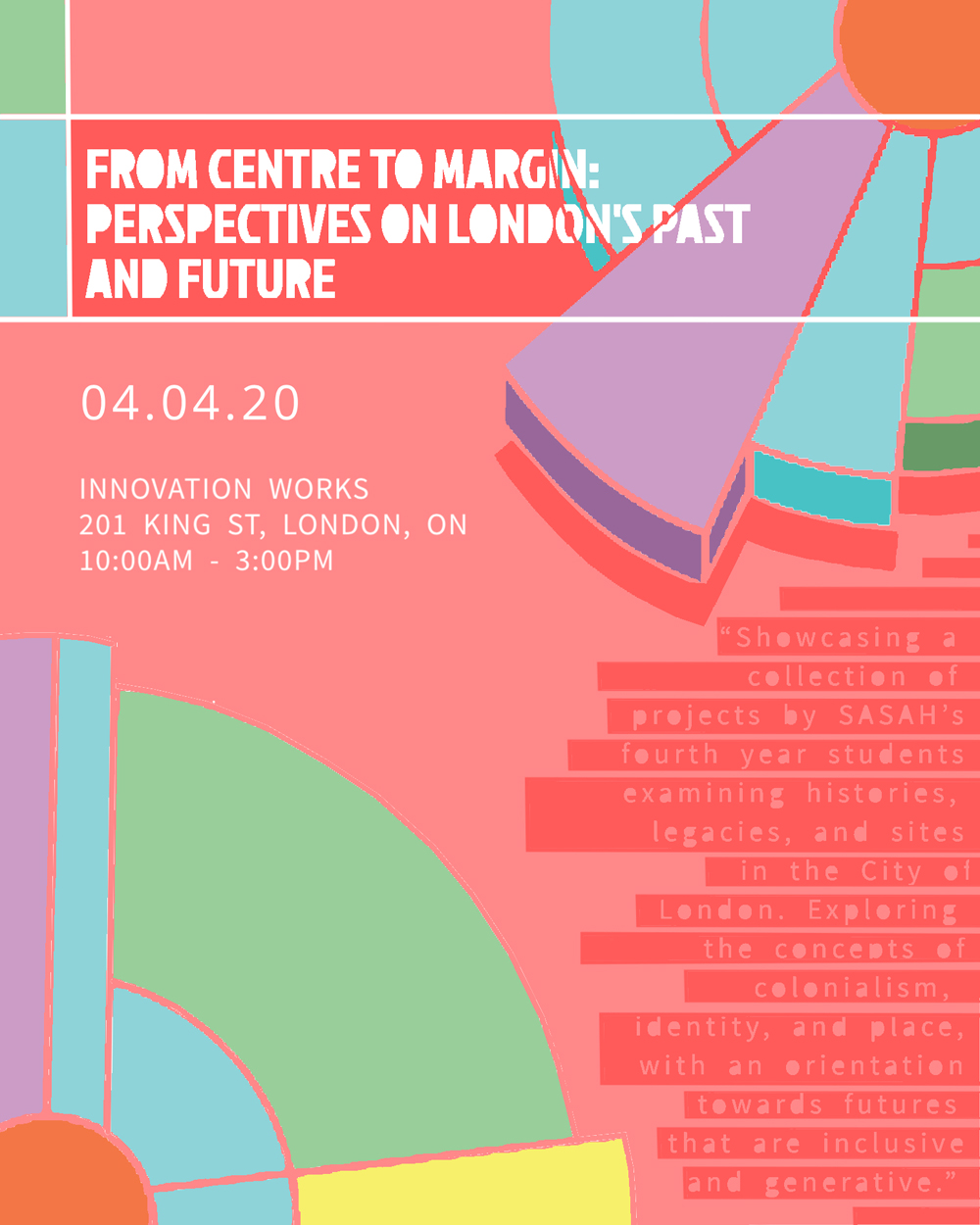 Conference poster designed by Mackenzie Desbiens
Phase 2: Winter Term Projects
The London List: From Farm to Fork
Amelia Eqbal, Betty Wang, and Hanbi Lee
22710 Highbury Ave.
Alex Busch and Rose Ghaedi
Arch
Victoria Burnett, Julia Campbell, Kristen Cote, Alex Wyatt,
and Courtney Ward-Zbeetnoff
Collected Identities: Collecting, Colonialism and Eldon House
Carina Pagotto and Natalie Scola
A Proposal for Approaching Street and Area Renaming Processes as a Method of Decolonisation in London, Ontario
Madeline Braney, Mackenzie Desbiens, Olivia Ezman,
and Lexie Hesketh-Pavilons
Plastic Communities
Elora Sinnott and Chantelle Ing
An exploration of London's diverse food culture with a particular focus on the farm to fork movement and migrant cultures.

An artistic intervention into an abandoned London farm hold that questions concepts of ownership, migration, and our relationship with the land.
This zine features creative works uncovering London's queer history in the '80s. Its aim is to start conversations about homophobia and connect queer youth with the local past.
An exhibition and corresponding catalogue that compares the events happening in London at the historic Eldon House in the nineteenth century to what was happening in the wider British Empire. Its purpose is to decolonize the settler narrative through artistic sketches, photos, and research. 

This detailed investigation and mapping of street names in London represents the familiar as a method of ongoing colonization. The project presents a corresponding exploration of methods of decolonization through conversation with Indigenous community members.
This personal, small-scale exploration of possibilities of waste-free futures along intersections of culture and geography offers potential large-scale strategies.

(G)local London: Local Histories, Current Practices, Decolonization


In Winter, 2020, nineteen fourth year students from SASAH formed 5 groups that engaged the Priority areas of London's Community Diversity & Inclusion Strategy, 
with the aim of supporting the development of work plans for its implementation and promotion. The establishment of the CDIS will unfold over approximately two years, and was begun in Fall 2019. 
The work of the class took place from January to April 2020 and was meant to focus on assessment, critique, promotion, and communication regarding the Priorities of the CDIS.

In addition to providing research support 
to the Priority groups, the students' projects took multiple forms, as evidenced in the following section. Originally, the projects were to be presented at a Capstone Conference at Innovation Works, on April 4, 2020. In lieu of that, they were forwarded to the Chairs of the respective Priority groups for use by the group in furthering its work, and the documented projects are featured on the City Studio website, as well as here. With thanks to Mischa Schlemmer, City Studio, and Kinga Koltun & Michelle Dellamora, City of London.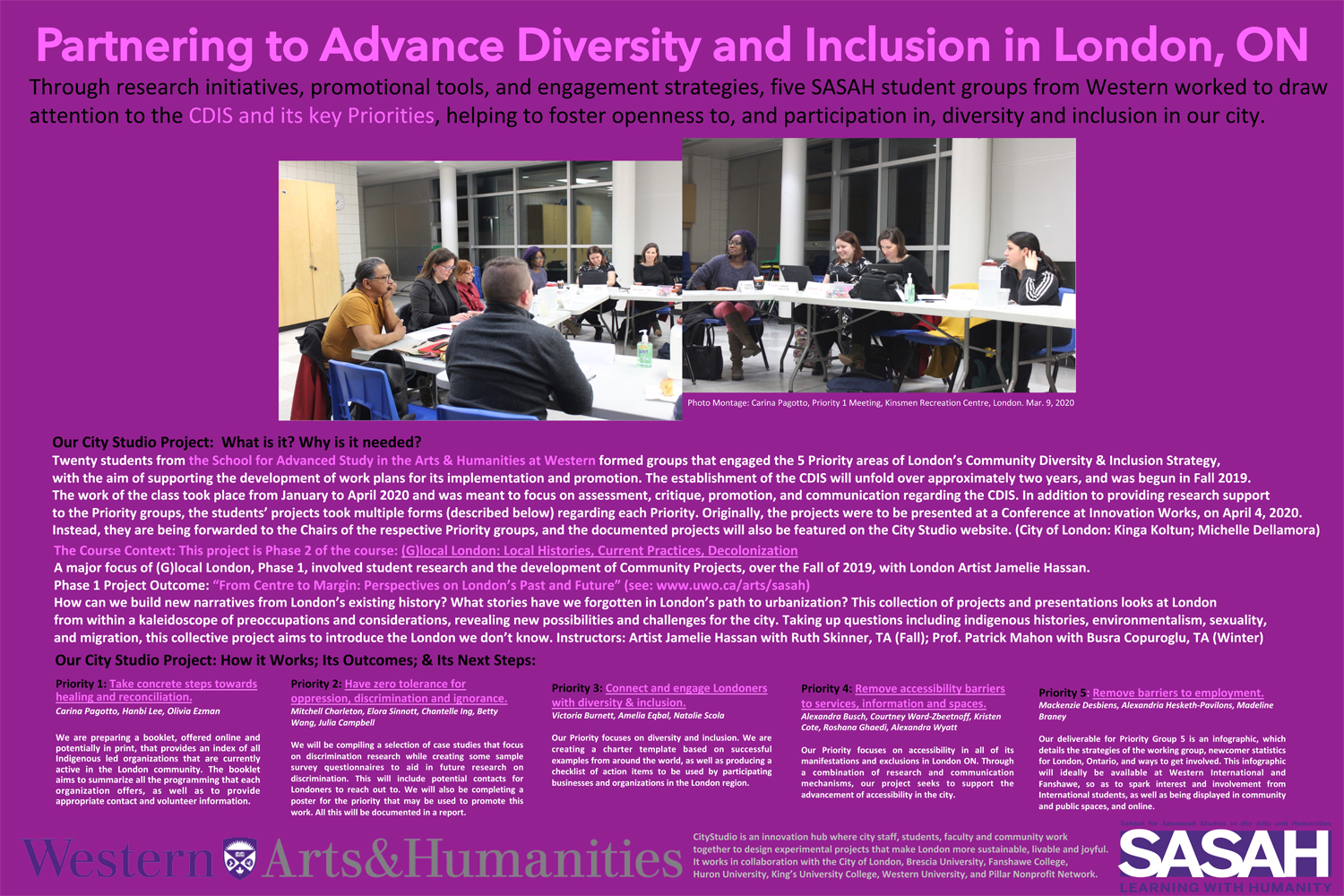 SASAH's City Studio Project Poster. Click for higher resolution.
Priority 1: Take concrete steps towards healing and reconciliation
Olivia Ezman, Hanbi Lee, Carina Pagotto
Priority 2: Have zero tolerance for oppression, discrimination
and ignorance
Julia Campbell, Mitch Charleton, Chantelle Ing, Elora Sinnott,
and Betty Wang
Priority 3: Connect and engage Londoners
Victoria Burnett, Amelia Eqbal, and Natalie Scola
Priority 4: Remove accessibility barriers to services, information
and spaces
Alex Busch, Kristen Cote, Rose Ghaedi, Courtney Ward-Zbeetnoff,
and Alex Wyatt
Priority 5: Remove barriers to employment
Madeline Braney, Mackenzie Desbiens, Lexie Hesketh-Pavilons
This is an in-depth summary and guide to all Indigenous-led organizations currently active in and around the City of London. It is intended to provide useful information in order to encourage leadership and promote business for Indigenous communities, as well as establish a stronger trust between non-indigenous and Indigenous peoples.
This series of case studies, best practices, research articles, and resources addresses the most ambitious of the Community Diversity and Inclusion Strategy's priorities. The report is intended to provide a starting point to help the Strategy 2 Team make actionable the broad goals of this priority.
London is a city enriched by its increasingly diverse population. All Londoners should feel honoured, welcomed, connected, included and engaged. This document outlines a commitment to ensuring the full inclusion of all community members in London, no matter their religion, sexual orientation, nationality, gender, etc.
This report defines and describes accessibility and why it is important. In taking a close look at what London is currently doing to ensure accessibility (living assistance services, educational services, transit, policy development, gender neutral washrooms, religious and cultural accommodations, etc.), this research highlights the need for equal opportunities, no matter one's circumstances.
A series of infographics describing what the City of London is doing to assist newcomers--whether international students, immigrants, or refugees--by developing a framework to remove employment barriers.